Please click on the mountain images at the top or bottom of the page to navigate this site. Sorry for this temporary inconvenience.
Our original intention was not to hike up to Cathedral Lake when we set out long before sunrise. Our attempt at Chair Mountain in the Crystal River Valley was not to happen this day due to the fact that the summit was in a cloud and we saw numerous No Tresspassing signs on our intended route. We instead drove around until we came across this gem - Cathedral Lake. I found the hike to be short and strenuous but quite well worth the effort.
The view of Cathederal Peak (el. 13,943) over Cathedral Lake (looking west-northwest).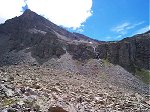 Malamute Peak (el. 13,348) and a waterfall (looking south-southwest).
A rugged ridge off to the southeast ...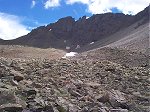 ... and where it terminates off to the east-northeast.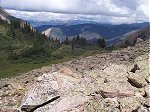 The view back down the valley (looking off to the northeast) with the Gore Range (???) on the horizon.
A closer look at Cathedral Peak.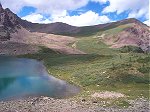 The trail up to Electric Pass is up the right hand side of this valley just east of Cathedral Peak (the view is to the north-northeast).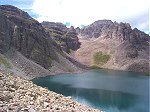 This photo should be mated with the one above.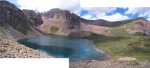 Like this! (I won't even try to fool you with the overlay of these two images).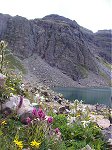 My hiking partner for the day, Tommy, identified something like five different types of wild flowers in this photo. Do you know what they all are? [I don't.]
Along on this hike with me:
Tommy
.